Yoga and meditation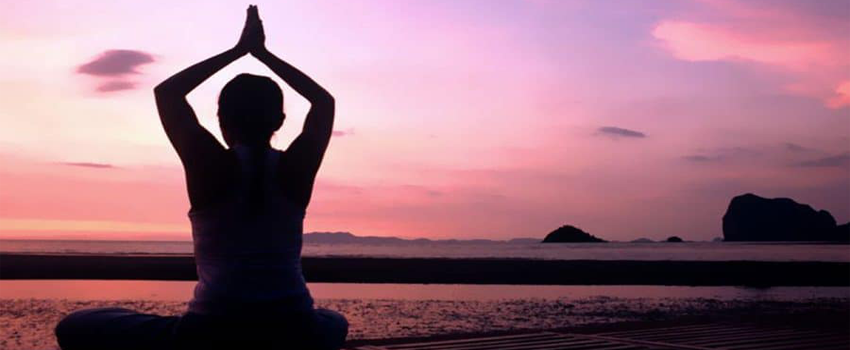 The Yoga and Meditation classes at Aestus Adventure and Wellness Centre are a refreshing and regular affair for the resident guests. We have an In house trained Yoga teacher who will effortlessly train you the most complex yoga asanas in a very simple to understand way. Yoga classes are held on the top floor and the entire area is surrounded by greenery and unexplored natural environment.
Yoga
Yoga is derived from the ancient Sanskrit word 'Yuj' and it means union of the individual consciousness or soul with the Universal Consciousness or Spirit. Yoga is a 5000 year old Indian body of knowledge. Though many think of yoga only as a physical exercise where people twist, turn, stretch, and breathe in the most complex ways, these are actually only the most superficial aspect of this profound science of unfolding the infinite potentials of the human mind and soul.
The science of Yoga imbibe itself the complete essence of the Way of Life, including - Gyan Yoga or philosophy, Bhakti Yoga or path of devotional bliss, Karma Yoga or path of blissful action, and Raja Yoga or path of mind control. Raja Yoga is further divided into eight parts. At the heart of the Raja Yoga system, balancing and unifying these various approaches, is the practice of Yoga Asana.
Meditation
The rest in meditation is deeper than the deepest sleep that you can ever have. When the mind becomes free from agitation, is calm and serene and at peace, meditation happens.
The benefits of meditation are manifold. It is an essential practice for mental hygiene. A calm mind, good concentration, clarity of perception, improvement in communication, blossoming of skills and talents, an unshakeable inner strength, healing, the ability to connect to an inner source of energy, relaxation, rejuvenation, and good luck are all natural results of meditating regularly.
In today's world where stress catches on faster than the eye can see or the mind can perceive, meditation is no more a luxury. It is a necessity. To be unconditionally happy and to have peace of mind, we need to tap into the power of meditation.